COST & DURATION OF THE TRACK OUT PROGRAM
This is a year-round program and will be limited to the first 15 children per day.
Visit our Day Camp Openings page to view up to the minute space availability!
TIME: 7:30am – 5:30pm (Monday – Friday) *A late fee of $2 per minute will be assessed for all pickups after 5:30
AGES: 5-12
REGISTRATION: Please register two weeks prior to date needed. Registration is available for single daily sessions or full weeks and must be completed online.
DAILY COST: $45.00
WEEKLY COST: $200.00
WHAT TO BRING: Lunch and 2 snacks daily.
WHAT TO WEAR: Gym clothes (no belts, buckles, or zippers, please)
TRACK OUT REGISTRATION INFORMATION
You MUST register your child before dropping off. If not, your child will be turned away if the program is FULL for the day and you failed to register prior to arrival. Walk-ins are welcome as long as there is space available!
If you go online to register and the day you are looking for does not show up that means that day is FULL! Unfortunately, for safety and liability reasons, walk-ins will NOT be permitted after daily maximum capacity has been reached!
You are responsible for any inaccurate online registrations that you submit. In other words, if you register for the wrong day and then show up for a day that is full and you did not register for that day, we will NOT be able to accommodate your children because maximum capacity has been reached!
If you register for a day and fail to come without notifying the gym, you will still be charged for that day.
To view the daily schedule of events for Day Camps click below:
**ONLINE REGISTRATION NOTE: Your credit card is NOT charged when you submit the registration form. The business office receives an email alert that you have registered and we process your card from the office as soon as your registration form is received. If you have a discount, we apply it before your card is charged. The electronic registration form only shows you the $38/day price and posts that to your online account, but rest assured that you will receive your discount.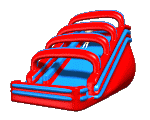 Weekly sessions MUST be paid prior to the start of the desired week in order to receive the multi-day/multiple week discount. You are NOT permitted to receive the weekly session discount if you begin the week paying Daily rates.
CAPACITY: Max of 25 children per day.
Our Day Camp program is offered everyday that the gym is open Monday thru Friday.
OVERVIEW OF THE PROGRAM
For more than 25 years Young's Gym has provided a small-town feel to the people of Wake Forest and surrounding areas.
We at Young's are excited to offer that same small-town feel in our Year Round Day Camps. Our Day camps are designed for school kids of all ages whether they are year round students who are tracked out, home-schooled students, or traditional students on spring or summer break.
Our Day Camp is a program that gives working parents the opportunity to place their children in a fun and safe environment. Our mission is to provide such an environment which promotes all aspects of athleticism (balance, strength, flexibility and coordination) and instills confidence in kids who attend.
Gym Activities (What To Expect)
Kids who attend our day camps enjoy the freedom of exploring and using the equipment in the gym under the supervision of the instructors. Every camp kid now participates in a group activity each day during the morning. The activity may range from organized games or gymnastics instruction. Generally speaking, though, camp is NOT a structured class environment like our regular gymnastics classes. Often, it's more similar to a Parent's Night Out in which the kids are allowed to move about the gym as they please.  The kids are afforded ample break time in our dedicated Track Out room where they have access to age-appropriate movies. They also get to use our giant inflatables on Fridays and play outside on our fenced-in playground if weather permits!