If you haven't had a birthday party at Young's Gym, you don't know what you've missed!!!
PARTIES INCLUDE:
1 and 1/2 total hours of party time.
An hour of play time in the gym including 3 inflatables: A giant 18 foot tall slide, a 35 foot long obstacle course, and a palm tree bouncer!
A half-hour in our party room comforably accomodating 20-25 people. You provide the food and decorations and we provide the table and chairs.
Standard price includes party for 18 children or less. Each additional child is $5.
Invitations are included upon request at no extra charge (invitations must be requested so we know to make them!)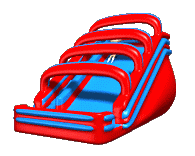 PRICE IS AS FOLLOWS:
The minimum cost of a birthday party is $200 for 18 kids or less.

There is charge of $5 per each additional child. 

A non-refundable deposit of $100 is due when your party is booked. This deposit can be paid in person at the gym, via phone with a Visa or Master Card or by submitting an online registration through our website. If registering online, we will charge the deposit on the credit card used to submit the registration unless otherwise noted at the time of registration.
Parties are not "secured" until we receive the $100.00 non-refundable deposit.
The balance of the party's fee is due no later than the day of the party.
Due to the increased demand for our parties, please plan on scheduling your party at least a month or more in advance.
TO VIEW PARTY AVAILABILITY AND BOOK YOUR PARTY ONLINE:
Once the calendar opens, if there are NO times available for a particular Saturday then all of the parties for that date have been booked or there are no parties scheduled on that Saturday (ex., holidays).
You can call or email the business office to verify or request party openings for a particular date! Office: 919-554-0606 Email: office@youngsgym.com